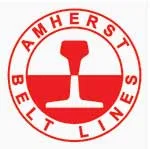 A modular model railroad system
The Amherst Belt Lines is a modular model railroad – a set of independent, but standardized, portable sections that can be assembled in a variety of ways to form a fully operating model railroad.
The club sets electrical specifications and track standards where modules meet. Beyond that, module owners are free to exercise their own modeling interests and creativity.
While some Belt Lines modules are club-owned, the majority are built and owned by our members.
There are no requirements for modeling era or scenery.
If you have an interest in model railroading and would like to learn more, Belt Lines members have a wealth of knowledge and experience that they are very willing to share.
If you have children that are interested in model trains, the Belt Lines is a wonderful place for them to learn. We welcome and encourage young model railroaders.
Finally, this is simply a fun group to be part of. We work hard, but we laugh a lot, too. After all, model railroading is fun!