Garden Railroad
a Special Interest Group of the Amherst Railway Society
Garden railroads are a special form of model railroading. They are outdoors. They are unusually built to a larger scale. They run through live vegetation. And, they change with the seasons.
But, most important, garden railroads bring joy to the people that build, maintain, and operate them, as well as the people that come to see them.
Welcome to the Amherst Railway Society's garden railroad project.
The Amherst Railway Society board of directors has approved the formation of a Garden Railroad Special Interest Group (SIG) for the purpose of building and operating an outdoor garden railroad on the organization's property in Palmer, Massachusetts. Authorization of the SIG means that budget money can be allocated to the project and the planning phase can begin.
Coordinators for the Garden Railroad project are: Joe Biagioni, Christine Davenport, and John Sacerdote.
In an important first step, the Amherst Railway Society has retained long-time garden railway designer Nancy Norris to plan the Amherst project. Nancy has written extensively for Garden Railways magazine and has authored several books on garden railroads.
Amherst's garden railroad will honor the rich railroad history of Palmer, Massachusetts.
If you would like to be part of the Garden Railroad SIG, please fill out the Contact form below. Amherst Railway Society membership is required for participation in any of our Special Interest Groups.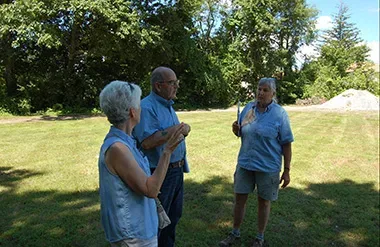 Suzanne Maas (left), former Executive Director of the Massachusetts Horticultural Society, John Sacerdote (center), Amherst Railway Society President, and Nancy Norris (right), garden railway designer, recently spent time in Palmer discussing options for Amherst's garden railroad.
If you have questions, or would like additional information, or would like to be part of the Amherst Railway Society's Garden Railroad Special Interest Group, please fill out the form below.
Outside of the Railroad Hobby Show, this is one of the most ambitious projects the Amherst Railway Society has ever undertaken. We welcome your creative participation.