We are a community...
of railroad and model railroad enthusiasts
If you like railroads...
the Amherst Railway Society gives you a place to expand your knowledge, make new friends, and simply do what you like doing best.
The 2023 Railroad Hobby Show Trip-for-Two Raffle
Your chance to see the show – on us!
Air fare, shuttle service, hotel, show tickets, banquet, clinics – all yours if you are the raffle winner. Full details here.
September 9 & 10, 2022
This year's silent auction & sale features a wide array of model railroad equipment, railroad memorabilia, and a special Kid's Area (new this year)
The Amherst Railway Society is looking for a Membership Director. The position is responsible for:
Designing and implementing membership growth and retention plans and programs

Developing member engagement plans and programs

Building a strong membership culture
The position reports for the Amherst Railway Society board President. To apply, contact John Sacerdote at: president@amherstrail.org.
Full job description here.
The following work days have been scheduled for the Amherst Building in Palmer. Work on the basement layout, work on the upstairs layouts, and other chores.
Saturday, August 27 – 9:00 am to noon
Saturday, September 10 – 9:00 am to noon
Thursday, September 22 – 6:00 pm to 9:00 pm
Saturday, September 24 – 9:00 am to noon
Saturday, October 8 – 9:00 am to noon
Thursday, October 20 – 6:00 pm to 9:00 pm
Saturday, October 22 – 9:00 am to noon
Amherst Pays Tribute to Palmer
The Amherst Railway Society has two projects underway to honor the railroad legacy of Palmer, Massachusetts – an HO-scale model railroad, and a G-scale outdoor garden railroad.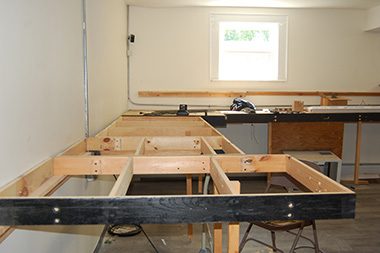 COVID statement
The Amherst Railway Society complies with all Massachusetts and local health department COVID recommendations and requirements
This policy applies to all club meetings, work sessions, and events.
This policy also applies to the annual Railroad Hobby Show, sponsored by the Amherst Railway Society.
Berlin, Bangor & Maine Railroad
The Podunk Parade makes a stop at the Amherst clubhouse
Dick Joyce's I&O Railroad